This Week on Knight Life
Masculinity…. young or old, we are issued a challenge to authentic masculinity. St Joseph provides a model and a method for Knights to succeed. The result is not a question but a description of our brotherhood of Knights and this week find it in several college Knights.
Hello, I'm Mike Gaspers back with you for a half hour of information, inspiration and invitation around the activities of this band of brothers the Iowa Knights of Columbus.
This is Knight Life…our Mission is Be Men of Courage and to do everything with LOVE for our fellow man, woman, child and unborn child.
Audio Player
To listen to the full podcast click the play arrow.
Overview of the Podcast – Masculinity
Knights celebrate St Joseph whose feast day we will soon observe. St Joseph provides an example of selfless giving putting Jesus and Mary's needs before his own as a father and husband. Knights are men who desire to die to self in order to live for others as St Joseph did and therein find Jesus Christ. Both St Joseph & Jesus himself show us the way to true masculinity.
The Knights are a wonderful avenue to allow anyone – young and old to give back in unity; and in so doing build virtuous and upright lives. That certainly is the model of St Joseph and the desire of our founder Fr Michael McGivney for Catholic men.
Just as St Joseph had many cares, husbands and fathers today do also. Being a Knight encourages and supports such men in their vocation to be the best fathers, husbands and Catholic men grace allows. Because its often older men who are more visibly involved in many parishes we may see the Knights as an older man's fraternity. However the Knights may have more to offer younger men as they start career, marriage and family.
Iowa Knights are currently promoting an Under 40 for Lent recruiting initiative to focus on inviting young men to consider membership. In that theme we visit with several young Knights about the attraction and benefits of membership in the Knights.
I recall an interview a couple of years ago with Travis Risvold of the Granger council in which he shares his thoughts about what is appealing to young men about the Knights.
I'm always struck by that phrase – I'm no unicorn. Travis rightly points out he is right here in our midst and not some mythical creature. We need each other to enable the give back.
In Iowa we have some wonderful college councils where young men have the opportunity to not only give back but build connections for a lifetime. I was privileged on the first week of February to attend IROCK – the Iowa Rally of College councils where I met several interesting and inspiring Knight leaders – all of whom are college men. If anyone was a unicorn that day perhaps it was myself as the oldest Knight in the room.
College Councils build friendships, build connections, and build leaders for life. I'm enthused that Zach plans to seek out a council home in his new city.
Attendees at IROCK this year hailed from UNI, Drake and host Iowa State. One man who was eager and outspoken is a senior at Drake with good prospects after graduation. Johnathon Fortino shares his insights on the Knights, on the importance of leadership and on his faith focus.
Johnathon Fortino certainly has spent reflective time considering what is truly important and his faith is on top.
I can remember as a college student searching for a place to fit in that also supported my faith. I don't think I was ever able to balance those two needs nearly as well as many of these college Knights. Frankly I've always been impressed with their depth of spirituality, insight and enthusiasm. My next guest is no exception.
The men at Ames have a bright future and are in good hands I think.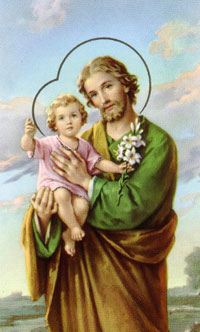 Steve Hesprich gives us a reflection upon St Joseph this week. What is your definition of a real man's man? What does authentic masculinity mean? We look to St Joseph as a model.
We are story people. We want to share our story; we want to hear your story; your story as told by yourself. To find out more on the Iowa Knights visit our website www.iowakofc.org. You can follow Iowa Knights of Columbus on Facebook or on Twitter @IAKnights for the latest news and updates. Consider posting a comment about your experience with the Knights of Columbus.
I'm Mike Gaspers, thank you for listening. Feeling inspired? Then act courageously and with love to put your faith into action by word and by deeds. Don't forget to March with us this Saturday!
Interested in the Band of Brothers? Contact a Knight or your parish priest and we will bring you into this fraternity of Catholic men.
Knight Life is a production of the Iowa Knights of Columbus.